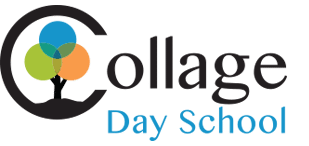 We have had a busy few weeks during the month of April here at Collage Day School. Our Kindergarten Students participated in a Stock Market Project throughout this school year organized by Mrs. Smith. Last week Mr. Trahan, a Collage Day School Parent, came onsite to provide our students with an update on their stocks. We are thankful for the support Mr. Trahan gave us as he monitored their stocks and guided the students through the process. The students cannot wait for their End of the Year Party to celebrate their accomplishments! Thank you to Mrs. Smith, Mr. Trahan, and the Kindergarten Students! See more information below in images!
Last week, our fourth grade students traveled back in time and got to experience learning through the eyes of pioneers. Mr. Steve's Project Based Learning Lesson permitted our students to learn how pioneers lived as well as more about their culture. Not only did our students dress as pioneers, but they also had a chance to eat some of the food the pioneers would have enjoyed. Thank you, Mr. Steve for a fun opportunity!
A scavenger hunt in our nation's oldest city was a highlight for our third, fourth, and fifth grade students last week. Kristin Thomforde put together an amazing opportunity for our students to embrace historical landmarks while enjoying all that Saint Augustine has to offer. They even met a few "pirates" along the way. We are thankful for all the time and effort Kristin Thomforde put into this adventure!
This week the Jacksonville Symphony will be onsite for our students to share more about the Brass Quartet. Our students will have the ability to learn the sounds of these instruments as well as background information. We look forward to a wonderful morning with these musicians.
Staff Appreciation Week is rapidly approaching. This a national week where we honor our teachers and staff in the field of education. At Collage, parents can choose to participate by using the information below as a guide, or donating to the Parent Community Association to sponsor a teacher where the PCA will purchase the items for you. To date, the PCA is half-way to the goal of $1600.00 as we have received $845.00! Thank you to all of those who continually support our teachers. As a reminder, the PCA is a non-profit so any money you donate is tax deductible. You can donate at PAC@collagedayschool.org.
Monday: Lotto Scratch Offs/Tropical Smoothie "We are lucky to have our staff"
Tuesday: Gifts for Teachers; Send a gift card for a teacher
Wednesday: Coffee Truck; "We like our staff A -Latte" Send in a coffee/hot chocolate items for our staff
Thursday: Nacho Bar; "Nacho Average Staff" Friday: Collage/PVC Lunch from Tropical Smoothie from the school
---
---
---
---
---
---
---
---
Important Dates

22-23 Early Learning Community /Preschool Calendar
22-23 Elementary Community Calendar
Show your school pride!
Shirts are just $18 – cash or check – available in all sizes
Show your school pride!
Shirts are just $18 – cash or check – available in youth sizes XS-XL.
Collage Day School Sponsors
Please support those who continually sponsor Collage Day School