Summer 2021
Consistent with the mission of Collage, our summer programming aims to cultivate a sense of wonder in each child and curiosity for the natural world. We inspire creativity, collaboration with others, and confidence to engage in new experiences.
COLLAGE FUN 2021
Know before you go …

Collage is a nut-free campus.
Clothing should be comfortable and perfect for play-might come home with signs of extreme fun … paint, dirt, etc.
Provide an extra set of clothes to be kept in the camper's backpack daily-shirt, bottoms, undergarments, socks.
Please send a filled water cup, two snacks and a lunch (if child is a full day camper).
Prior to arrival child should have sunscreen and bug spray applied.
Child may not attend camp without submission or required forms.
Questions: info@collagedayschool.org
or call 904.900.1439
Dates
Nine weeks in length. Beginning Monday, June 1st, through Friday, July 31st.
Ages as of June 1st
3 years through 10 years old. Child must be fully toilet trained.
Cost
Half day 9:00am – 12:00pm for $200/week |Full day 9:00am – 3:00pm for $300/week
Registration Fee: $50 per child, not to exceed $75 for two or more children in the same household.
Half day students who wish to attend full day Friday field trips will pay $50 extra. Otherwise they will stay onsite for campus field trips.
Children ages 3-4 years old will take part in onsite campus field trips. Before Care and or After Care cost is $12/hour.
Payment for Summer Programs is due by May 15.
Week 1 – Into the Wilderness
June 1 – June 4
We will be closed on May 31st in Observance of Memorial Day
Description
Calling all explorers! This week we will don our Fedoras, a la Indiana Jones, as we explore nature around us. Our 8-acre campus provides a natural canvas that fosters creativity and embraces outdoor learning. Through arts, crafts, and play, we will channel each individual explorer and provide an environment that encourages student discovery. Our week of wilderness fun ends with an onsite visit from the Jacksonville Zoo.
.
Week 2 – Water Works
June 7 – June 11
Description
Wet and wacky water fun is the wave we are surfing this week! This week is planned the way childhood Summer memories were meant to be. Slip-n-slides, water wars with tubes, face painting, and tie-dye are a small sampling of the activities and crafts we will complete this week.
Week 3 – Adventure Avengers
June 14 – June 18
Description
It's time to save the day! This week our Super Hero's will shine as we dive into the world of hero's. We'll create our own Super Hero costumes, including masks, shields, capes, and more…
Week 4 – Astonishing Astronomers
June 21 – June 25
Description
We're blasting into outer space! Ever wonder about the Moon, Stars, and the Sun in the sky? How many stars are up there? Why does the Sun go down at night and rise in the morning? These are some of the questions we'll explore this week as we learn about our Solar System.
Note: Registration for Week 4 is closed.
Week 5 – The Athlete in Me
June 28 – July 2
Description
On your mark…get set…GO! We'll hit the ground running with an emphasis on fitness and fun. From ball games to relay races and a visit from My Gym. We'll definitely have fun while nurturing the athlete in all of us!
Note: Registration for Week 5 is closed.
Week 6 – The Community Around Us
July 6 – July 9
We will be closed on Monday, July 5th in Observance of Independence day
Description
This week we recognize and appreciate all of the components that strengthen our community. Patriotism and respect will fill our week as we celebrate Independence Day with crafts and activities. We will have visits from the Saint John's Sheriffs' Department and The K9 for Warriors Dogs and Trainers, to understand how the community supports us.
Note: Week 6 is closed for all ages.
Week 7 – Deep Blue Sea
July 12 – July 16
Description
"Fair winds and following seas!"
It's all about the deep, blue sea this week. Through the methodologies of S.T.E.A.M, we will explore ocean life at 20,000 Leagues while enjoying beach games and activities. Collaborative projects allow for us to have an enhanced understanding of sea life that fosters appreciation of the ocean.
Note: Week 7 is closed for all ages.
Week 8 – Amazing Artists
July 19 – July 23
Description
What is art? Is it painting? Sculpting? Collages? Crafts? YES, and so much more! Every week has its own set of unique crafts and this one is no different. This week we will explore a few famous artists within ourselves. We encourage all students to share their artistic talents with us this week as well. If you sing, dance, draw, paint, or whatever! Share it with us!
This will also coincide with a "Family Week" theme, as Parent's day is the following weekend. We will also have our Color Walk/Run.
Note: Week 8 is closed for all ages.
Week 9 – Full STEAM Ahead
July 26 – July 30
Description
We're closing out the Summer with a BANG as we look forward to the start of another fun year at Collage Day School! This week we will immerse ourselves in STEAM-related crafts and activities. Soda bottle Bottle Rockets, Leak-Proof Bags, and Pool Noodle Periscopes to name a few.
Note: Week 9 is closed for all ages.
TimberNook
Below you will find all the details for our Summer 2021 TimberNook weeks. Registration is closed for all weeks.
Please email us at TimberNook@collagedayschool.org if you have any questions.
Extreme Art Cottages
Date and Time
June 1 – June 4
9:30am – 1:30pm
Price
$236 (this is a 4-day week)
Age Group
4-10 years old
Description
Children will use their hands and imaginations to make their visions of forts, bases, castles, and cottages come to life. From multi-room dwellings to decorative art installations, the children will create structures that are not only functional but also exciting and fun to explore. This week is all about working together to visualize and create an inviting, picturesque community in the woods.
Going Wild
Date and Time
June 7 – June 11
9:30am – 1:30pm
Price
$295
Age Group
4-10 years old
Description
This series of TimberNook experiences bring children into the world of classic tried and true TimberNook play! Children will hone a variety of skills and are sure to challenge themselves physically. There will be plenty of mud, adventure, risk, and skill-building.
Storybook
Date and Time
June 14 – June 18
9:30am – 1:30pm
Price
$295
Age Group
4-10 years old
Description
We've all heard classic stories, now it's time to live the lives of storybook characters young and old. Royal gatherings, mining for resources, building large and small, and bravely questing for treasure are all part of living a storybook experience like no other. Children's creativity and enthusiasm for making the unreal, real are all that's required to turn fairy tales into reality!
Barefoot and Buckets – Rainbow Week
Date and Time
June 21- June 25
9:30am – 1:30pm
Price
$295
Age Group
4-10 years old
Description
This week is all about bringing together the visual with the kinesthetic. We'll capture the fluid and spontaneous joy of children's creativity and funnel it into moving art projects. Building, painting, dripping, dropping, swirling, sliding, and spattering will be but some of the seemingly endless options available to showcase their artistic talents.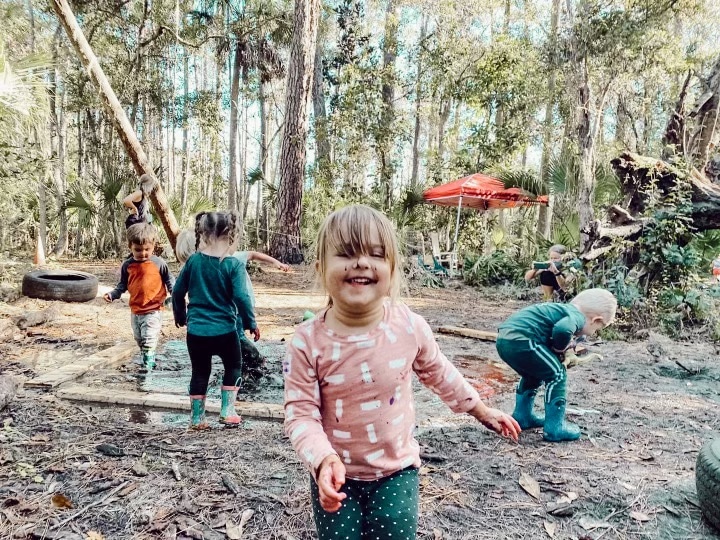 Woodland Tinkering
Date and Time
June 28 – July 2
9:30am – 1:30pm
Price
$295
Age Group
4-10 years old
Description
There is something so satisfying about setting something up and watching it work on its own. Think long lines of tumbling dominos, slides and ramps for balls to roll through, and catapults to send objects soaring and careening off into the distance. Builders will particularly love this week, but anyone who enjoys creating projects with moving parts should have a blast.
Castaways
Date and Time
July 12 – July 16
9:30am – 1:30pm
Price
$295
Age Group
4-10 years old
Description
A modern take on a classic idea. Constructing shelters, building a floating raft, using paint for signs and signals and survival skill challenges will test children's intuition, teamwork, and instincts for the outdoors. Children can prepare to be travelers to a deserted island and participate in the back-to-basics excitement of working together to conquer the elements. Bring your courage and your best ideas, you're going to need them!
Enchanted
Date and Time
July 19 – July 23
9:30am – 1:30pm
Price
$295
Age Group
4-10 years old
Description
Children are inspired to create their own magical spaces in the woods while channeling their inner woodland creature. Children will love this enchanting spin on a TimberNook tried and true classic, over-the-top experience!
Friends in the Wild – Woodland Week
Date and Time
July 26 – July 30
9:30am – 1:30pm
Price
$295
Age Group
4-10 years old
Description
Young children will get a chance to participate in the harmony of animals in the woods. Building dens and making their own snacks, setting up trails for woodland creatures, and even a picnic for all animals big and small. An appreciation for the wonder of creatures and our place in the natural environment is the theme for this week.