Summer 2022
Consistent with the mission of Collage, our summer programming aims to cultivate a sense of wonder in each child and curiosity for the natural world. We inspire creativity, collaboration with others, and confidence to engage in new experiences.
COLLAGE FUN 2022
Know before you go …

Collage is a nut-free campus.
Clothing should be comfortable and perfect for play-might come home with signs of extreme fun … paint, dirt, etc.
Provide an extra set of clothes to be kept in the camper's backpack daily-shirt, bottoms, undergarments, socks.
Please send a filled water cup, two snacks and a lunch (if child is a full day camper).
Prior to arrival child should have sunscreen and bug spray applied.
Attendance requires submission of all forms including admissions and health documents.
Questions: info@collagedayschool.org
or call 904.900.1439
Dates
Nine weeks in length. Beginning Monday, May 31st, through Friday, July 29th.
Ages as of June 1st
3 years through 11 years old. Child must demonstrate full toilet mastery.
Cost
Half day 9:00am – 12:00pm for $200/week |Full day 9:00am – 3:00pm for $300/week
Registration Fee: $50 per child, not to exceed $75 for two or more children in the same household.
Before Care and or After Care cost is $12/hour.
Payment for Summer Programs is due by May 1st.
Week 1 – Adventure Avengers
May 31st – June 3rd
We will be closed on Monday, May 30th in Observance of Memorial Day
Description
Calling all Superheroes! It's time to save the day! This week our "Superheroes" become "Super Heroes"! Our Summer Programming Students will shine as we dive into the world of hero's. We'll create our own Super Hero costumes, including masks, shields, capes, and more…In addition, our superheroes will increase their agility and flexibility as they work as a team to complete various physical obstacles. All of this will occur while also learning skills to increase our levels of social-emotional learning as a superhero needs to always demonstrate positive character traits.

"If I could be a superhero, I wonder which I'd be. Or maybe it's time I tried to find The hero inside of me." – Steve Lazarowitz
.
Week 2 – S.T.E.A.M.
June 6th – June 10th

Science
Technology
Engineering
Arts
Mathematics
Description
"Are you curious? What would you like to know? Do you ever wonder why cat eyes glow? Are you curious why a cheetah has spots or how a sailor ties his knots? It is fantastic you use your brain to think or ponder about the rain. So please be curious and ask why. It can make you smarter if you try." – Gwen Jones
At Collage we inspire students to "Observe, Wonder, and Learn" which serves as the framework for STEAM. Our 8-Acre Campus provides wonderful opportunities for students to increase their exploration with STEAM. As we progress through the week, we will provide exploratory activities for summer programming students to increase their ability to understand Science, Technology, Engineering, Arts, and Mathematics. Our week ends with an onsite visit from the Museum of Science and History to assist students with generalizing these skills. We look forward to welcoming all of our scientists as we cater to their levels of curiosity.
Week 3 – Artists of the World
June 13th – June 17th
Description

Collage Day School provides a canvas of learning opportunities for our summer programming students. We have the ability to showcase this during the "Artist of the World" Summer Programming Week. Each day will be filled with activities for students to channel their inner sense of art and encourage them to strengthen their skillset through various hands-on possibilities. Our week ends with a visit from a local artist who will assist students with creating a special memento from the week.
"I painted myself with yellow paint. Very bright, Very nice. I run around in the daylight sun. All bright and happy and cheerful. All covered in yellow paint."
– Lexi Vinton
Note: Ages 5 and 6 registration will be added to our waitlist.
Week 4 – Water
June 20th – June 24th
Description
Water Week is a favorite of our summer programming students here at Collage Day School! Each day, students will have opportunities to frolic in various forms of water exploration while also increasing their understanding of the importance of water conservation in our environment. Our week ends with an onsite visit from Marineland to learn more about our ocean animal friends. This is a week where students will get wet and staff have the ability to pretend they are students again. The memories will last a lifetime!
Note: Ages 5, 6, and 8 registration will be added to our waitlist.
Week 5 – Super Sports – (Registration is closed)
June 27th – July 1st
Description
The Athlete in Me Week at Collage Day School provides an overview of one sport each day including football, tennis, field hockey, basketball, and more. This is a great way for summer programming students to have an introduction to various physical fitness activities as they learn which captivates their interests more. In addition, students learn the pre-requisite skills needed to achieve success as a team. Our week ends with a fun-filled obstacle course to allow students to channel their inner athlete. This week of camp provides opportunities to instill a sense of confidence in students as they partake in new adventures each day.

"He who is not courageous enough to take risks will accomplish nothing in line." – Muhammad Ali, gold-medal boxer
Note: Ages 5 and 6 registration will be added to our waitlist.
Week 6 – Animal Planet – (Registration is closed)
July 4th – July 8th
We will be closed on Monday, July 4th in Observance of Independence day
Description
Our 4-Day Week of Summer Programming this week provides students with an enhanced understanding of the "Animal Planet". Students have the ability to learn about various categories of animals including those who live in the artic, ocean, rainforest, and jungle. Although it might be a shorter week, our students end their exploration with an onsite visit from the Jacksonville Zoo where they can ask various questions and learn from experts in the field. Be prepared for your summer programming student to amaze you with new facts each day and possibly teach you new information about the animals around us!
"There are many great voices, but not all of them are human." – Unknown
Note: Ages 6 registration will be added to our waitlist.
Week 7 – Marine Biology
July 11th – July 15th
Description
"Seas The Day"
It's time to embark on an adventure through the sea as our students catch a glimpse into the world of ocean life around us. Each day focuses on different marine animals including orcas, sharks, dolphins, and other sea creatures. We will also increase our flexibility with "Surfboard Yoga" on the lawn! Students will leave the week with an understanding as to how we can protect the oceans and live more Eco-Friendly. . Our popular water day events return during this week as well. This is a fabulous week to instill a love for the ocean and perhaps an interest in Marine Biology.
Note: Ages 5 and 6 registration will be added to our waitlist.
Week 8 – Enrichment Exploration
July 18th – July 22nd
Description
Collage Day School offers a plethora of afterschool enrichment opportunities for students to foster additional learning opportunities that cater to their individual interests. Our Enrichment Exploration Week provides students with the ability to try all of our wonderful enrichments during one week. Each day will focus on one genre as we facilitate activities that promote an elevation of learning to include theater, athleticism, dancing, STEAM, Art, and nature exploration. By the end of the week, students will request to enroll in these enrichments during the school year as they spark so much interest in our students.
"I am always doing what I cannot do yet. In order to learn how to do it."
– Vincent Van Gogh
Note: Ages 5 and 6 registration will be added to our waitlist.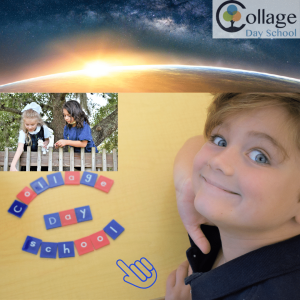 Week 9 – Space
July 25th – July 29th
Description
"How many stars do you think are in the sky?" This question and others can be solved by spending a week learning about Space! Our universe is full of so many learning opportunities for students and sparks a level of interest that deserves a dedicated week. Astronomy allows students to learn about our universe while also channeling problem-solving skills and critical thinking. Hands-on activities encourage kinesthetic learners to increase their understanding and feel as though they are cascading through space. Our week ends with an onsite planetarium experience.
"The stars don't look bigger, but they do look brighter" – Sally Ride
Note: Ages 6 registration will be added to our waitlist.