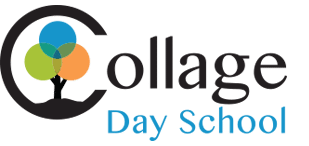 At Collage Day School, we empower students to succeed as skilled communicators, keen observers of nature and creative thinkers to become responsible citizens and innovative leaders.
Dear Collage Day School Elementary Families,
As we conclude the 2022-2023 school year, I want to take this time to thank all of our parents for your support. We are immersed in planning for the new school year, and I am elated to return full-time as Head of Upper School, where I will again work with both faculty and families.
In the last year I focused on my own family, and prioritizing my children, ages, 17, 15, and 11. During that time, I also completed my Doctorate in Educational Leadership and Administration. My education further includes a Bachelor's Degree in Special Education, and Master's Degree in Curriculum and Instruction. The 2023-2024 marks my 21st year in education, 15th year in partnership with Dr. Falwell, our founder, and 7th year here at Collage Day School.  I also enjoy inspiring and mentoring new educators, and just finished my first year as Adjunct Professor at Flagler College.
The 2023-2024 school year will allow Collage Day School to provide a deeper focus on its mission where we facilitate instruction focused on students becoming "skilled communicators, keen observers of nature, and creative thinkers." Changes will be abundant as we increase focus on Project Based Learning (PBL) and differentiation. With these methodologies, we teach students "How to think" and not "What to think."
Our Elementary faculty increase professional development at the conclusion of this school year and will be collaborating with Kristin Thomforde, Director of Education and Danielle Theriault, Director of Curriculum and Learning. Parents can explore new curricula through our Curriculum Chats and Project-Based Learning Showcases. Our students' learning will come alive as they have the opportunity to research topics of their choice and lead us on this expedition.
I will be spending the remaining few months contacting families to check-in and see how Collage Day School can foster growth and success for your student in the upcoming year. I encourage you as parents to reflect on the words "Responsible Citizens and Innovative Leaders" and how your student's education can be enhanced by these pillars of integrity. The 2023-2024 school year is a time for us to reinforce these skills with our students both in the school and at home.
An Elementary Student Portrait accompanies this letter and provides a snapshot for next year. Please let me know if you have any questions or would like to further collaborate to make this the best year yet.
Tiffany Clark Ed.D.
Collage Day School
Head of Upper School
---
---
Important Dates

22-23 Early Learning Community /Preschool Calendar
22-23 Elementary Community Calendar
Show your school pride!
Shirts are just $18 – cash or check – available in all sizes
Collage Day School Sponsors
Please support those who continually sponsor Collage Day School