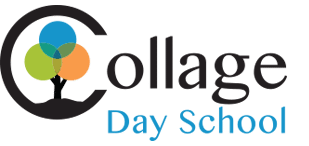 Dear Collage Families,
Collage Day School began its sixth school year on August 8th. Each year our Collage community welcomes tremendous growth, momentous occasions, and unique situations; and this year was no different.
In our Upper School, we expanded to two kindergarten, two first grade, and two second grade classes and independent third, fourth, and fifth grade classes for the first time since our school's inception. In our Lower School, our two-year-old program grew to four classes and we started a new preschool program to support all of our learners. Furthermore, we welcomed several new positions within our support team including a revamped leadership team and a curriculum coach to further our collaborative approach to student's successful academic achievements. This growth is testament to how well our academic curricula and programming serve all of our learners. We continued with our outdoor learning opportunities here on our eight-acre campus as we increased the TimberNook class offerings and added new outdoor learning structures in the courtyards, all of which enhance our Collage Day School mission and philosophy.
We are fortunate to have continued support from families such as yours as we progress through one of the most impactful chapters in our Collage Day School history. Although we, like many schools, faced a teacher shortage as we entered the school year, our dedicated team never lost sight of prioritizing your student's learning, growth, and potential. As a team, we came together to further our school's development and continued to provide the extensive program offerings families expect.
Today marks the first day of the 2023-2024 re-enrollment period for current families. Re-enrollment registration extends until January 31st, 2023. Registration will then open to families in the community, including those currently on the waitlist.
We look forward to continuing our partnership as we prepare for another chapter in our story.
Sincerely,
Leah Friedman, PhD, BCBA-D
Head of School
·      Families continuing with Collage Day School for the 2023-2024 school year should follow the process below. Those who will not re-enroll will need to sign into their FACTS Account and select the option to not re-enroll at this time. 
· Please complete the re-enrollment application online by signing into your FACTS Account. Please review the updated 2023-2024 Financial Bulletin which can be found on our website in the "Admissions Section" under Tuition and Fees carefully prior to re-enrollment. The 2023-2024 Preschool and Elementary School Calendars can also be viewed online in the Parent Connect Section.
· Re-enrollment fees are due at the time of re-enrollment
· The re-enrollment fee will increase to $475 on February 1st for everyone, both current and new families. Thank you for your continued investment in CDS and all of our students and faculty.
Important Dates
Nov. 4-Collage Day School Jersey Day
Nov. 11-Non Instructional Day
Nov. 24-Palm Valley Child Development Center Closed For All Students (Thanksgiving)
Nov. 25-Palm Valley Child Development Center Closed For All Students
Dec. 19-Jan 2-Winterbreak Non Instructional Days
Dec. 26-Jan 2-Collage Day School Closed For All Students

22-23 Early Learning Community /Preschool Calendar
22-23 Elementary Community Calendar
Show your school pride!
Shirts are just $18 – cash or check – available in all sizes
Collage Day School Sponsors
Please support those who continually sponsor Collage Day School